Themepark & Resort Slagharen will open its gates on the 26th of March for the new season 2021. We are following the guidelines and advices from the Dutch government regarding Covid-19, but nevertheless we will make every effort to give you an unforgettable stay!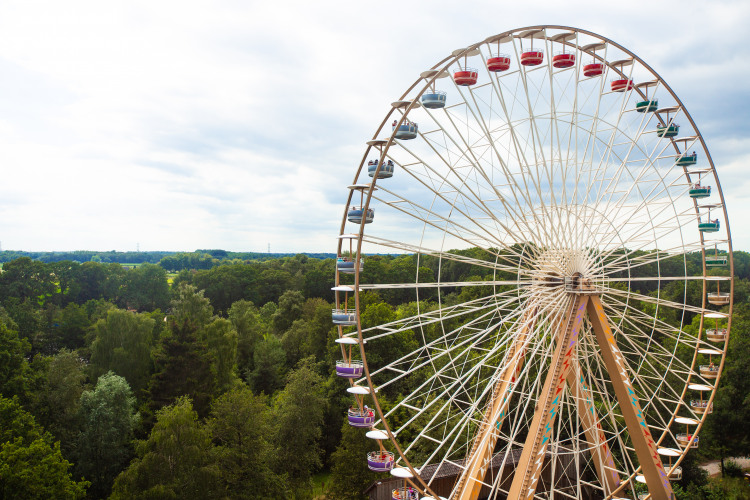 Three guarantees
1,5-metre distance
Extra hygiene measures
Sufficient and clear information
Basic rules for everyone
Get tested and stay at home if you have symptoms
Cough and sneeze into your elbow.
Wash your hands often. Do this for at least 20 seconds. Make use of the available disinfection points.
Stay 1.5 metres (2 arms lengths) away from other people.
Everyone aged 13 or over is required to wear a face mask for general use in buildings and covered spaces that are accessible to the public
Come with your own household.
Pay by card
Top 5 Frequently asked questions
Guidelines Theme Park
Book your day out
It is mandatory to reserve your day of visit, even if you already have a ticket without a date or subscription, for example. Go to this page to book a visit.
Hiking trails
Only one-way traffic is allowed on some paths / roads. This is indicated on site by means of signs and yellow arrows.
Queue
The queues at the attractions have been adjusted to keep 1.5 meters away from other households. This is indicated by means of boxes. It is not possible to leave the queue, so only enter the queue if you are sure that you want to enter the attraction.
With your family in the attraction
We distribute our visitors as much as possible in attractions. Are you coming to the park with your household? There is a good chance that you can sit together in a part of the train (of a roller coaster). If you come alone, you will end up alone in this part. Otherwise the 1.5 meter rule cannot be used.
Hygiene in the stations / attractions
Employees regularly disinfect the chairs / gondolas. In addition, large parts of the stations and queues will be regularly disinfected.
Play in the playgrounds
The Randy's Playground, Loggers Slide and Phileas Fun House playgrounds are accessible. Adults 18 years and older should keep 1.5 meters away. When busy, access to the playgrounds may be temporarily limited.
Toilet blocks
The toilet blocks in the amusement park are open. The toilets are cleaned regularly by the employees. Keep 1.5 meters away in the toilet blocks.
Frequently asked questions Theme park
Frequently asked questions Season pass holders
Guidelines Holiday Park
It is possible to book a stay in Theme Park & Resort Slagharen. We also follow the Safe Together Out protocol and the guidelines of the RIVM for the holiday park.
Checking in
Before your holiday, you make full payment and register your party online via the accelerated check-in. One person per party may enter the check-in reception to check-in. Wristbands, keys and information is put down so that there is no contact. Keep your distance from employees and other guests in the reception area. There is a maximum number of guests allowed in the reception.
On vacation with your family
It is only allowed to spend the night with your family or household in Theme Park & Resort Slagharen. If you want to go on holiday with people outside of your household, you should always keep 1.5 meters apart (including in a holiday home, the amusement park and water park).
Cleaning accommodations
All accommodations are cleaned by Fonville Cleaning Companies with ozone water, natural disinfection and a guarantee of good quality cleaning. In the accommodation, extra attention is paid to the cleaning of contact points, such as handles, door handles, light switches, etc. It is temporarily not possible to make the beds, linen and towels are sealed in the accommodation.
Questions during your stay
If you have any questions or comments during your stay, you can WhatsApp us on 0523 683000. Is this not possible? Then you can go to the reception of the holiday park in the Sitting Bull Saloon.
Frequently asked questions Resort
Guidelines Water Park
Capacity of Aqua Mexicana
Due to its limited capacity, the Aqua Mexicana water park is only accessible to holiday park guests *. 1 scan port is used at the entrance. A queue has been created with markings on the floor to keep a distance of 1.5 meters between parties.
* excluding camping guests
Reserve tickets for Aqua Mexicana
It is mandatory to reserve a ticket with a time slot on site prior to your visit to Aqua Mexicana. These can be reserved online, you will receive an explanation during check-in. Depending on the available capacity, access is granted to the water park.
Distance In the pool
In Aqua Mexicana we apply the rules set out in the swimming pool protocol. Keep 1.5 meters away from other households.
Use of facilities
The spray parks and water playgrounds are accessible, adults over 18 years must keep a distance of 1.5 meters from each other. The slides have an adapted queue. In the queue, follow the markers and keep your distance. The tires are disinfected after use.
First aid in Aqua Mexicana
The first aid post in the water park is manned. One person at a time can be treated within the first aid post. Children may be accompanied by a parent belonging to the household.
Hospitality guidelines
Some of the catering locations in the Slagharen theme park have been opened. Keep the following rules in mind:
Keep your distance in the queue and the seats. To do this, follow the markings on the ground.
Do not move the furniture.
Pay as much as possible with your debit card or pay contactless. Payment with cash is possible.
The following locations are open:
Randy's Pizza & Pasta,
Cartwright's,
Big Jake Dinner House (only for breakfast delivery service),
The Fill up station,
Frontier Café,
Trading Post,
Subway,
Dutch Mini Pancakes.
A number of these restaurants are open longer for our holiday guests.
Stores & Games Guidelines
Some of the shops & games in Slagharen theme park have been opened. The following rules apply in the stores that are open:
Pay as much as possible with your debit card or pay contactless. Payment with cash is possible.
Only touch the products that you actually buy.
Keep your distance. To do this, follow the marking en route on the ground and the signs.