Discover a new world just around the corner for the whole family!
Everyone needs a holiday now and then. Time to give each other some attention and to do fun things. But picking a destination that the entire family agrees on can be more difficult than you think. We have the solution! A top destination for the summer of 2022 is just around the corner, in Slagharen. Whether you like relaxing of prefer excitement, swimming or climbing, staying close to home or visiting an entirely new environment: we have something for everyone.
We all know Slagharen is a beautiful amusement park, yet there is much more to it, which you may not know yet. We have exciting accommodations for every member of the family. How about a night in a real Wigwam or a Cowboy Cottage, with all the comfort you could want? Or how about a super-exciting ride in an attraction, while your parents relax on the terrace? All that is possible just around the corner, in the Wild West of Slagharen. There is so much to do here, that the accommodations really come in handy because it is impossible to do everything in one day. We also have our subtropical swimming paradise Aqua Mexicana, which you don't want to miss!
Why is Slagharen so appropriate for a family outing? Actually, it starts before you even arrive, as we are easily accessible to everyone. Everyone knows how tiring travelling can be with impatient children. Surely, you could use some rest, right? That is why it is so nice to arrive at your destination in good shape. It starts with entering an entirely different world. Didn't you use to love the Wild West when you were younger? Some things never change. The Wild West still evokes adventure, excitement, fun, and discovery. The theme park plunges you into another time and dimension. You forget all your worries and the daily grind, even if just for a moment. You can finally get away from it all.
Slagharen is known for its spectacular attractions. There are too many to mention them all, but we will list a few of them. Everyone has been on a roller coaster before, but the Gold Rush is something else. You will reach a speed of almost 56 miles per hour, you will go upside down twice, and you will get whipped back and forth three times in total: twice forwards and once backwards. Our Ripsaw Falls is another roller coaster, but on water. You can take adventurous rides through the mines with the Mine Train, or through the Wild West with the Wild West Adventure. If you want more water fun, you can find it at Expedition Nautilus. Or would you rather enjoy the view? In that case, the Sky Tower or the Big Wheel are what you are looking for. These are already more adventures than you can fit into a day, and we have only just begun. All in the exciting atmosphere of the Wild West. Does this already sound like the perfect family outing with the children?
You should keep this to yourself, but some children who like adventure are actually a bit older. That is why we also welcome friends, colleagues, families, and other groups who want to spend a few days together for a special occasion - or perhaps just for fun. What could be better than sleeping a few steps away from the attractions? This, of course, means less time wasted. When you have tired children after a long day, you know how nice it is for everyone to be in bed quickly. The great thing is that the accommodations also have a Wild West theme. How about a Wigwam? Or do you prefer a Cowboy Cottage?
The Wigwam is a real tent, although it is not quite situated on the prairie. We also furnished them secretly: after all, we can't ask the fathers and mothers of the little Indians to sleep on the ground. There is also a bathroom/toilet next to each wigwam. Everyone wants to have an adventure like that, right? Cowboys can choose to stay in a Cowboy Cottage, which is also fully equipped. There is even a coffee maker, so that the mothers and fathers of the little cowboys can make a nice cup of coffee before the daily adventures start. The accommodations at Slagharen make it easy to arrange a family summer holiday. No expensive trip. No complicated plans to put together. Just go to https://website.slagharen.com/en.
A new world will open itself to you, the world of the Wild West. You will forget that you are out and about in your own country. Okay, you can easily communicate with everyone, but otherwise you are completely immersed in another time, another place, and another dimension. Even a stroll down Main Street is an adventure, with lots of entertainment to find anytime, anywhere. When you think of Slagharen, you naturally think of the rides, but there is so much more to do. There are the evening shows in the Music Hall, and you can even enjoy shopping in the Wild West. From swimming gear, toys, souvenirs to sweets: you can find it all at Slagharen.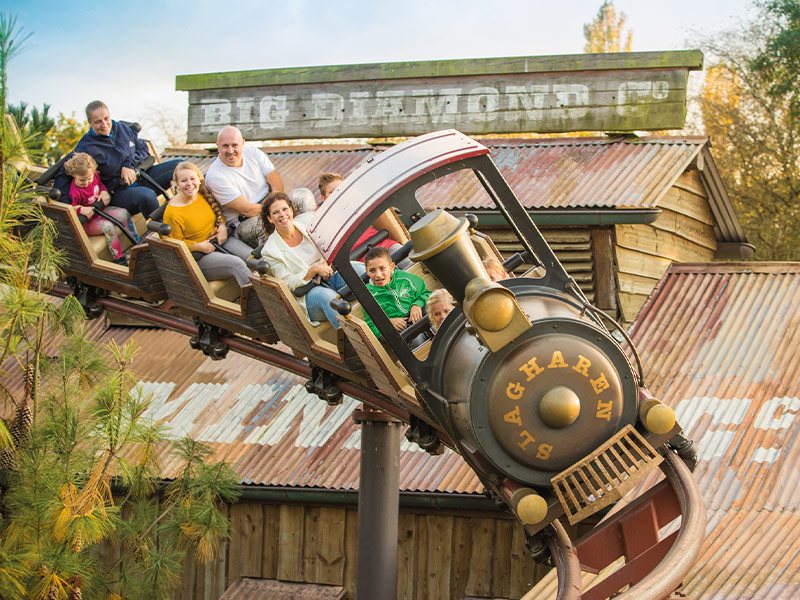 For swimming enthusiasts, we have a subtropical swimming paradise with ten slides of more than one hundred metres! While the youngest can play in the paddling pool, the adults can relax in the enormous hot tub. What about the beach? There is no doubt: at Aqua Mexicana, you can enjoy yourself for a whole day. You get away from it all, and you are taken care of. But what if you don't really like the beach and actually prefer the mountains? Climbing? In the Netherlands?
The Black Hill Ranger Path is Slagharen's very own climbing park. In the climbing park you will find a rollglider, a rope course with different levels, climbing walls and much more. As the name suggests, the park also has a Wild West theme, but the activities are a bit sportier. Actually, that is Slagharen's secret: everyone, no matter their age or personal preferences, can have a great time. 
It is never either/or. It is everything and more. Grandpa and grandma can enjoy themselves while the grandchildren expend their energy. Colleagues or friends can split up to enjoy different activities and have lunch or dinner together. But even families with children of different ages will find something for each family member. Slagharen is for everyone. That is why we are a top destination for great family outings in the Netherlands.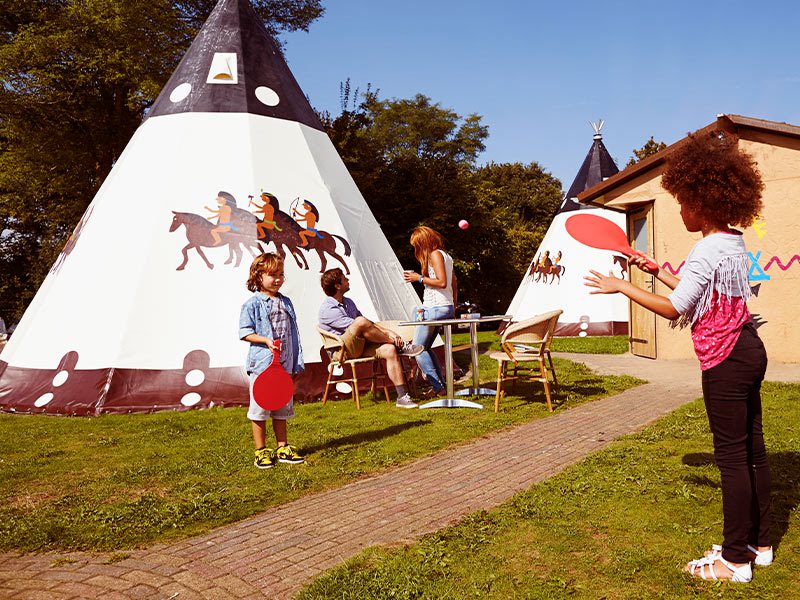 Holidays always end too soon, but memories last forever. Just think of that look of excitement and adventure on your children's faces. That moment at dinner, when everyone is still glowing from what they saw in the Wild West, but also fantasising about what they will experience next. The varying activities, the quality of the facilities and the enormous choice in food and other pampering make Slagharen a top destination for a trip with children. If you have a bit more time, for example during the summer of 2022, you can also take advantage of our accommodations and turn it into a real holiday. A real holiday, but just around the corner. With comfort, safety, and adventure for everyone, delicious food and the Slagharen staff taking care of you.
Are you wondering what a fun family outing with children in the Netherlands might look like? Want to know what great memories are waiting for you at Slagharen? Then check out our attractions, such as the Ripsaw Falls, the Gold Rush, and the Tomahawk. Check out the possibilities to dine at Cartwright's or the Boston Grill. Or check out the other atmospheres you can dive into at Aqua Mexicana or Black Hill Ranger Path. Slagharen offers all sorts of options when booking. Of course, it is always wise to get there early - if you do so, you will even be rewarded with a discount. Do you want to go on a fun family trip in the Netherlands? Or are you coming with a group? We have options for everyone. Go to https://website.slagharen.com/en/book-your-visit and plan your visit to Slagharen. We look forward to welcoming you!